Every two years, the Sallie B. Howard School for the Arts and Science takes 10 students on a study abroad trip for about 3 weeks. Since our first trip in 1999, we have taken students to Egypt, Kenya, Tanzania, India, China, Alaska, Australia, France, Cuba and South Africa!
Through a research paper and interviews, these students earn their place on such school-sponsored trips. We are committed to providing our middle and high school students with this experience to help them learn more about the world and their role in it. Is study abroad right for your child? Here is what you need to consider.
The Benefits of Studying Abroad in Middle School
Many people are aware of the benefits of a study abroad trip during college, but did you know that studying abroad can benefit students of all ages? When younger students get the chance to go on a study abroad trip to another country, they learn that the world is bigger than their personal experiences. They meet and interact with people from other cultures and build a rich appreciation for diverse ways of living and thinking.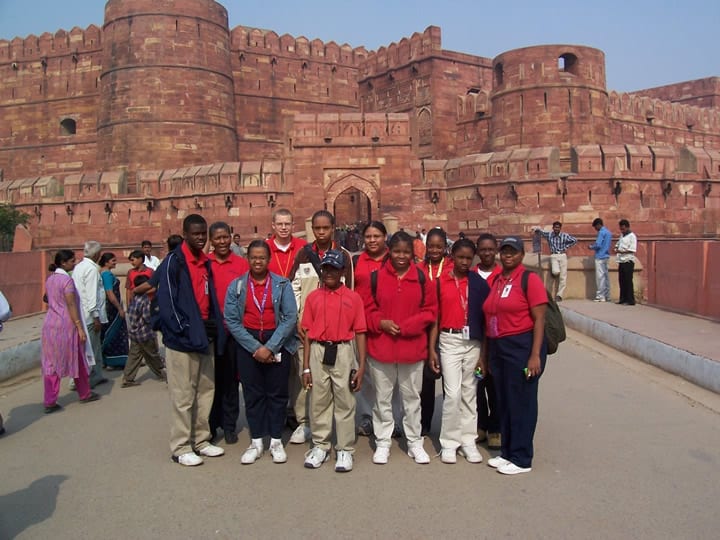 At these ages, many students struggle to look past their own concerns. They are wrapped up in their own social life and the challenges of their education, but study abroad helps them broaden their perspective. Study abroad students enhance empathy and understanding as they learn the different lifestyles and cultures of people in the world.  
Does Study Abroad in High School Help Your Child Get into College?
Additionally, a study abroad experience can make your child's college application stand out in the crowd. Acceptance rates to the best schools are incredibly competitive. Does your child have the right edge to wow the admissions team? Our programs may be the solution you need.
How Do Students Share Their Journeys?
Although only a handful of students go on our study abroad trips, we want to ensure that all of our students benefit from these excursions. To that end, our study abroad students write journals throughout their journeys so that other students can learn about the parts of the world their classmates have visited. 
For instance, after a 2015 trip to Australia, our students created a book discussing this island nation's 50,000-year history before settlers arrived from England. Other students have completed similar resources after their trips abroad. 
Ready to provide your child with a world-class education? Then, contact us today to learn about our admissions process. We'd love to take your child on our next adventure.